Kurashi no Utsuwa HANADA
(kudanshita, tokyo)
shizen
(jinguumae, tokyo)
You're introducing many containers by a blog of shizen.
Please also check an article in the past by Keiko Ogawa's tag.
Mogusa garden
(hino city)
BB-IZUMI
(shimizu-ku, shizuoka city)
puento puenta
(ito city, shizuoka)*check the appointment system on HP
mitsuki
(sayama city, saitama)
Soba & Millet cuisine TOTO
(Takao, Hachiohji)
You use a box of condiments, a small bowl and a mini-dish. (A container isn't being sold.)

Tellur工房 テルルコウボウ
After reserving purchase of the capacity at the atelier by mail beforehand.
please come. It's possible shipped off.
(It takes shipping charge and a transfer handling charge separately.)
*There are a day I'll decline and time,
so please accept it because I'm making them give priority to production.
*I don't receive the mail you rarely sent.
When there are no answers for many days, it's trouble,
but it's by the telephone or a fax. Another contact, please.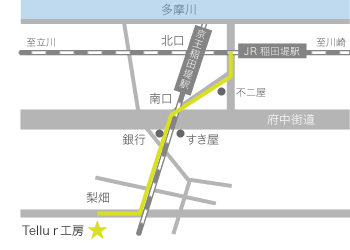 19-6-1F Shigeshiroshita Tama-ku Kawasaki, Kanagawa
JAPAN 214-0007



●5 min walk from
Keiko inadatutumi station.
●10 min walk from
JR Nanbu line "Inadatutumi" station.